Junto Bronze 22cm Deep Plate
Junto by Rosenthal Bronze stoneware 22cm deep plate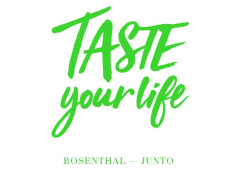 Size: 22cm
Deep plate - small serving piece
Material: Stoneware
Dishwasher and microwave safe
Rosenthal's new tableware collection boasts a handmade look, quite naturally uniting sensual ceramic in matt earthy tones and fine porcelain with asymmetrical forms. The 46 different pieces can be combined in number of ways – a creative mix, which keeps on reinventing itself. Created by StudioTonetti and Mario Padiglioni, symbolises the joy of eating and with others. Available in three porcelain series in the beautiful hand-glazed hues Ocean Blue, Pearl Grey and White, boasting a delicate diamond relief. The porcelain is complemented by two stoneware series in Bronze and Slate grey.

The charm of this ceramic series lies in the individual appearance of each piece. A special reactive glaze conjures distinctive, spike like structures on the surface. The ceramic pieces in Bronze colour radiate warmth and comfort. The warm bronze of the ceramic parts is a great contrast point to the three porcelain series in the colours but is also eye-catching when used solo.

Junto - Rosenthal: modern dining without borders
Eating together, having a good time and celebrating life – the new Rosenthal Junto design innovatively and playfully brings together people and their love of good food from all over the world. A subtile fusion of the porcelain, sumptuous ceramics, warm wood and stylish accessories enables all manner of combinations for any cuisine. Our passion for minute details and a natural, handcrafted look is unmistakable, with muted colours and organic shapes. The specially developed colour glaze lets the characteristic diamond relief appear in an exciting contrast of light and dark, lending these hand-glazed products a unique colour progression.