Pull Box Round Set of 2 Grey
Set contains:
Medium Round GREY: diameter 15.7cm, height 8.2cm, capacity 0.75L
Large Round PERIWINKLE: diameter 20.5cm, height 10cm, capacity 1.8L

Pull Box is an innovative and patented food container.
Leak proof
Microwave safe
Dishwasher safe
Freshness safe
Food contact safe
100% recyclable
Made in Italy
An exceptional recognition: Awarded the Red Dot Design Award 2022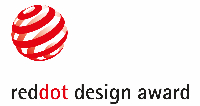 Its features have been instrumental in one of the most prestigious awards in the world in the field of Product Design:
100% Leak proof
The hermetic seal of Pull Box is guaranteed by a patented closing system and the presence of a gasket that conforms to the container, keeping it firmly sealed even if it were to tilt. This is reason why Pull Box is a practical and functional container, easily transportable even in bags or backpacks, where, not always, it is possible to guarantee the container a perfectly horizontal positioning.

Visible content
Practicality is the winning card for anyone who lives the house and the kitchen on a daily basis. Pull Box is specially designed for those who have no time to waste and want to have everything in order and under control, without sacrificing beauty and design. Pull Box combines aesthetics and functionality in a perfect blend: the transparent lid is essential for immediate recognition of the content while, from a design point of view, it lightens the stage presence.

Refrigerate in style
In a fridge, the things that matter are the order and ease of identifying the food. Pull Box can offer both. The square design allows to occupy all the available space and the transparent lid facilitates the recognition of the food inside without having to open the container.

Take it wherever you want, use it whenever you want
More and more often a quick but healthy meal is preferred, perhaps brought from home, to one prepared without knowing where the food comes from. At work, where you have little time, or when you are away from home, but you do not want to give up your eating habits, Pull Box becomes important to safely transport salads, quick first courses or fruit.

OMADA® is the brand of plastic kitchenware, totally recyclable, strongly characterized by functional design and manufactured with innovative technologies. Over forty years of experience and passion for plastics Omada provides quality products for all tastes.